Online Master of Mental Health
Exceed the national standards for mental healthcare
Choose a proven course in mental healthcare – the 100% online Master of Mental Health is developed in collaboration with Allied Health Professions Australia (AHPA). You'll learn from experts how to apply the skills outlined by the Australian Commission on Safety and Quality in Healthcare so you can create clinical plans for clients. Graduate with hands-on experience.
Learn more today
Complete the form to learn more about this program.
*Course and subject costs are based on 2020-2021 tuition fees. Fees are correct at the time of publishing and are subject to change. Speak with an enrolment adviser for more information.
100% online2
7-week terms
Co-developed with AHPA
Make an immediate impact on vulnerable populations
Gain the wisdom, knowledge and skill set you need to become a qualified mental healthcare professional – one of the most in-demand positions in Australia as forecasted in the 2019 employment projections.3 With the online Master of Mental Health at La Trobe University, you'll graduate with the clinical skills to engage in recovery-focused services. You'll be prepared to make independent clinical judgments in mental health practice and develop clinical plans – all with a unique understanding of regional and rural perspectives on mental healthcare.
This course aims to provide you with a deeper understanding of mental health, through systematic analysis and reflection on the relationships between theory and clinical practice. It offers you strong evidence-based learning, supported by clinical skill development and lifelong skills.
Please note that you have the option of exiting early from the degree with either a Graduate Certificate or a Postgraduate Diploma.
The qualification awarded on graduation is recognised in the Australian Qualifications Framework (AQF) as Level 9.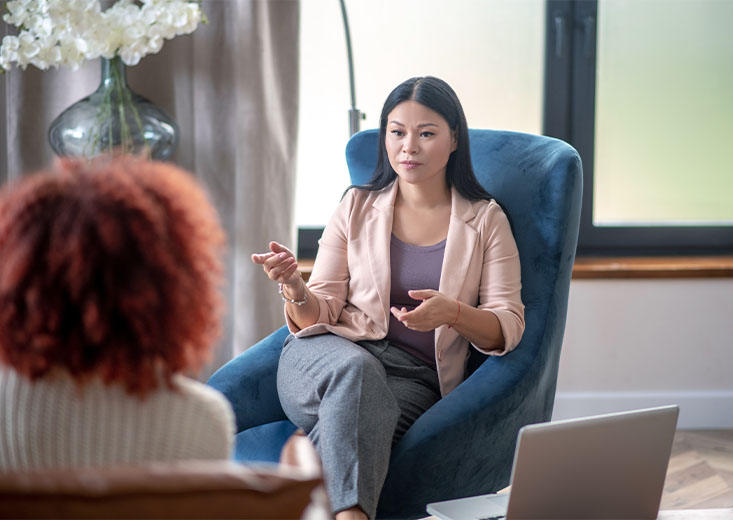 Course structure: gain critical perspectives in rural and regional care
The Australian Government currently recognises mental healthcare as a national priority and acknowledges that providing services to those who live in rural communities is a significant challenge. La Trobe is the only university to offer an online Master of Mental Health that addresses rural and Indigenous mental health issues alongside traditional perspectives.
You'll learn from experts how to apply the skills outlined by the Australian Commission on Safety and Quality in Health Care, and you'll graduate ready to provide expert care.
With full-time study, you can graduate in 18 months.
Course structure
Career outlook: qualified mental health professionals are urgently needed
The need for qualified mental health care professionals is critical. According to the Australian Bureau of Statistics, an additional 800,000 Australians reported a mental or behavioural condition in a span of three years.4 The 2019 employment projections show that roles in social assistance services have an estimated growth rate of 17.1% – more than double the national average.5,6
Career outlook
Course outcomes: gain clinical skills to lead recovery-focused services
By graduation, you'll be able to:
Make independent clinical judgements applying specialist skills
Assess clients and develop reasonable clinical plans
Utilise critical skills in problem-solving, planning and evaluation
Communicate effectively and sensitively with colleagues, people accessing mental health services and the public
Perform independently or as a team leader within mental health settings
Recognise ongoing learning needs and use effective learning strategies for professional practice
Undertake effective reflective practise, both independently and as a member or leader of teams in multidisciplinary work environments.
Entry requirements
To apply for La Trobe's Master of Mental Health, you'll need a completed application and the following:
an undergraduate degree in any discipline
transcripts from prior universities
resume or CV
personal statement
employment in a setting that gives you access to mental health presentations
Opportunities for alternate entry include special consideration and advanced standing.
Find out more
Fee details
Complete our online Master of Mental Health with 12 subjects that are $3,300 each.
See tuition
Learn from experienced clinicians, researchers and mental health managers. They'll provide expert guidance in the online Master of Mental Health so you can step into this demanding profession with confidence.
Kate is the head of the Rural Department of Nursing and Midwifery, a postgraduate course coordinator for mental health and a lecturer for the undergraduate nursing and paramedicine degrees. She is currently a PhD candidate focusing her research on mental health assessment in pre-hospital care.
She has a background in comprehensive general and psychiatric nursing. Her interests include clinical decision-making, critical thinking, psychiatric triage, mental health presentations in emergency departments and pre-hospital care, crisis assessment and treatment, community mental health, service delivery, policy, e-health and communications technology. Kate also has a specific interest in clinical education, blended learning and simulation.
What's it like to learn online?
As an online student, you'll work with the same accomplished teachers who deliver our on-campus subjects. You'll receive one-on-one support and benefit from the same opportunities as our students on campus. However, you'll get to learn where and when it's most convenient for you.
Discover more
Study assist
La Trobe online courses are eligible for FEE-HELP for domestic students. Speak with an enrolment adviser. We can help you discover what's available to help you pay for your course.
Talk to us
Frequently asked questions
We're always happy to chat with you. If you'd rather talk one-on-one or have a question you don't see answered here, request more information or call (+61 3) 9917 3009.