Online student experience
Achieve excellence in online education
At La Trobe University, online courses are designed to be flexible for the working professional. Taught by experts in their field, our courses will show you how to adapt to new situations, connect with others and take the lead.
You'll graduate with powerful skills, knowledge and project experience to be identified as a leader and quickly advance your career.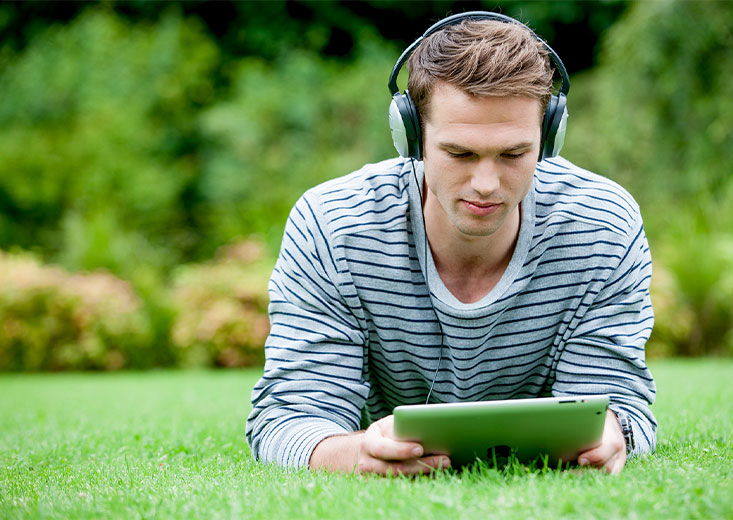 What does online learning look like?
Developed for busy professionals with personal commitments, our online courses help you take your career and leadership abilities to the next level.
In online courses at La Trobe, you can study wherever it best works for you – from your home, your local library or your favourite coffee shop – on a schedule that fits your lifestyle.
Online courses feature the same course structure and opportunities that our on-campus students experience, so you're sure to enjoy a quality education and one-on-one support. We'll support you through making the decision to study, the application process, enrolment, your course and even after graduation.

You'll have 24/7 technology assistance, so you truly can learn when and where it's best for you.
Choose your course
Prepare to step into leadership roles with confidence with one of La Trobe's postgraduate online courses.
Explore courses
La Trobe technology and support
At La Trobe, challenges with technology in off-business hours are no trouble at all for our team. We realise you're likely studying outside of typical work hours, so our technology team provides 24/7 support.
Tech needs & support
Benefits of studying online
At La Trobe, you'll find your education online to be just as rigorous and enriching as if you were in the classroom. Learning online gives you the added bonus of learning when and where it suits you best because that's when the best learning happens.
Progressive, career-aligned education
Supportive mentors, advisers and teaching staff
one-on-one support
Rigorous, accredited degrees
Learn when and where it's best for you
Use your spare time to learn, not to commute
Top 3 tips to succeed as an online learner
Prepare your family and friends. Have conversations with the people in your life about the course you're undertaking and how it may impact them. For instance, when you're in your study space, you're not to be interrupted. There may need to be a new division of labour between you and a partner or you may not be as readily available to dash out with friends.
Schedule your study time. You'll need 10 to 12 hours a week to complete your course part-time, or about 24 hours a week for a full-time schedule. Once you've received your syllabus, take a look at your schedule and start dedicating time to read, comment on discussion boards and complete assignments. You can tweak it as you go but setting time aside early on guarantees it'll be available.
Reach out to your teachers. Having a solid relationship with your teachers allows for stronger learning and mentorship opportunities. You can reach out early on to say hello and drop them a note saying what you're looking forward to in their subject.
Frequently asked questions
There is no difference between the online and on-campus courses. The course structure, expectations and learning outcomes are all the same as those for the on-campus courses.
Learning online means you can study in the times and locations that are best for you. You'll be given access to an easy-to-use virtual learning system that houses your syllabi and assignments and gives you access to discussion groups. Before you start the course, you'll take part in a webinar to make sure you understand the learning platform, how to use its resources and answer any questions you have so you're set up for a successful term. You'll log on to each virtual class and complete assignments and exams, just like you would in a traditional university course, but online. You'll also interact with your teachers and fellow students frequently through lively discussion forums.
You'll be a part of lively discussion forums where students and teachers ask questions, exchange ideas and discuss thoughts on the subject material through online discussion forums and email. If you need additional help, teaching staff are available by phone or email, offering you the same support and interaction on-campus students enjoy. When you study online at La Trobe University, you are part of a genuine learning community.
You'll usually spend 15–20 hours a week completing readings, discussion posts and assignments. Special projects and research may apply, depending on your course.
Before you start the course, you'll take part in a webinar to make sure you understand the learning platform, how to use its resources and answer any questions you have so you're set up for a successful term.
View All FAQs