Online Graduate Certificate in Mental Health for Education
Enhance your education career with the skills to manage mental health in your school
In our online Graduate Certificate in Mental Health for Education, you will explore topics in school responsiveness, trauma theory, experiences and perceptions of mental illness and therapeutic skills for mental health.
This is a nested qualification within the Master of Education. When you complete this online course, you can continue with advanced standing.
Learn more today
Complete the form to learn more about this program.
Nested qualification within the Master of Education
100% online
Complete in 6 months
Develop resilience strategies and mental health management techniques designed for educators
The fully online Graduate Certificate in Mental Health for Education will give you the tools to identify and manage mental health issues in your school so that you can make a positive impact. You will prepare to help students who are in heightened states of emotion and advocate for students' mental health.
This course is taught by professionals from La Trobe's globally ranked health and education subjects.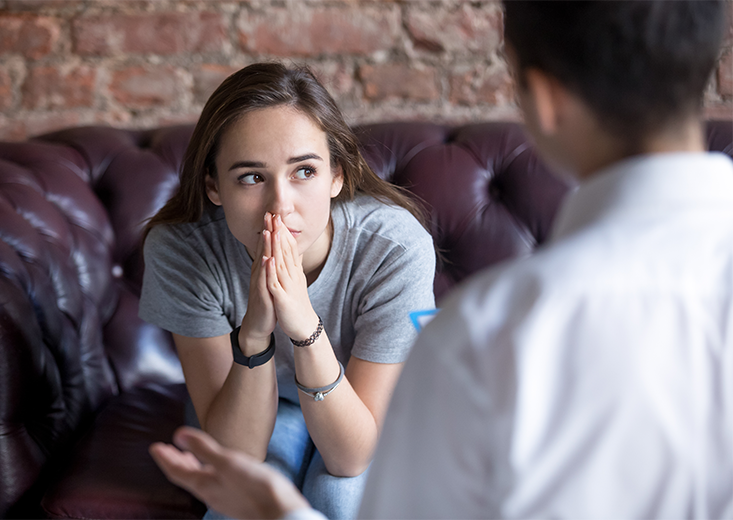 Subjects
The online Graduate Certificate in Mental Health for Education explores issues related to well-being and school responsiveness. You will examine topics in trauma, anxiety, depression and bullying, among others.
MMH4THK Therapeutic Skills
MMH4EPM Experiences and Perceptions of Mental Illness
EDU5SAW Schools and Well-Being
EDU5TTP Trauma Theory and Practice
View complete curriculum
Career outlook: Build leadership skills that positively impact mental health
With context-specific mental health education from this online Graduate Certificate, you can increase your salary potential and pursue specialist positions in education careers. You will also have access to a global alumni network and outstanding industry contacts.
Course outcomes
When you complete the online Graduate Certificate in Mental Health for Education, you will be able to:
Apply understandings of the experiences and perceptions of mental well-being in the contexts of family, school and community to contribute to the development and restoration of safe learning environments.
Create culturally safe learning environments through respectful language and terminology, acknowledging the relationship between culture and well-being.
Participate in cross-disciplinary teams to promote universal approaches to well-being, demonstrating a functional understanding of mental health systems and community support resources available to schools and individuals.
Lead school-based teams in the design and implementation of person-centered responses to well-being needs, including strategies for promoting relational advocacy, collaborative conversations and evidence-based practices.
Entry requirements
Can be completed in six months1
To apply for La Trobe's online Graduate Certificate in Mental Health for Education, you will need a completed application and the following:
Successful completion of an Australian bachelor's degree (or equivalent)
Transcripts from all prior universities attended
Note: Meeting minimum prerequisites does not guarantee an offer of a place. Entry into all La Trobe courses is based on competitive selection, and there may be limited places available.
Take the next step in your career with La Trobe and apply today.
View the application process
Fee details
Four subjects
$12,500 total2

$2,062 with a Commonwealth Supported Place2
The online Graduate Certificate in Mental Health for Education at La Trobe consists of four subjects that cost $3,125 each for a Domestic Full-Fee Paying place. Fees are correct at the time of publishing and are subject to change.
Experienced educators, researchers and mental health professionals have carefully designed and teach our online Graduate Certificate in Mental Health for Education. They are committed to providing you with full support and personalised attention as you complete the course.
Phil Maude is Professor of Rural Health Nursing (Mental Health). He is also the Course Coordinator for the Master of Mental Health & Master of Mental Health Nursing. Phil has extensive experience as a senior psychiatric nurse at the Alfred Hospital, Community Mental Health and Neuro-Surgical and Addictions Services.
His research focus and areas of interest include:
Interventions for suicide and de-escalation of violence​
Addiction​
Service delivery and rural mental health​
Authentic assessment in learning​
With over 30 years of experience working in the field of special education and mainstream primary schools in both Australia and the UK, I have a broad experience in both classroom practice and leadership roles.
My research interest lies in the education of children from traumatic backgrounds and interventions which respond to the profound and long-term impact on their brain development.
Listening to the experiences of both students and teachers, I have explored the use of narrative inquiry, performance-based research and critical reflection as methodologies to investigate the challenges and pedagogies surrounding trauma-informed practice.
In my current role as a lecturer in Inclusive Education and Trauma and coordinating the Masters of Inclusion and Diversity course, I work in partnership with education providers in regional Victoria to develop more trauma-informed approaches which might alter the trajectory for vulnerable students. This research work is in the Educational Disciplinary Study Area (EDSA) of Social Inclusion and Diversity.
What's it like to learn online?
As an online student, you'll work with the same accomplished teachers who deliver our on-campus subjects. You'll receive one-on-one support and benefit from the same opportunities as our students on campus. However, you'll get to learn where and when it's most convenient for you.
Discover more
Study assist
La Trobe online courses are eligible for FEE-HELP for domestic students. Speak with an enrolment adviser. We can help you discover what's available to help you pay for your course.
Talk to us
Frequently asked questions
We're always happy to chat with you. If you'd rather talk one-on-one or have a question you don't see answered here, request more information or call (+61 3) 9917 3009.
Currently, La Trobe courses cannot be taken in a hybrid format.
Due to the variant nature of textbooks needed, the cost is not included in the tuition fee. This gives you the option to choose whether you would like to buy new or used books or rent them. It also allows you to determine what type of book works best for your learning style, whether that means hard copies or e-books.
You're welcome to visit any of our campuses. If you'd like a formal tour, please call (+61 3) 9917 3009 to schedule a tour of the location you prefer.
At La Trobe, we've designed our online courses so working professionals can achieve the education they need to advance their careers quickly. Studying online means you can learn in the times and locations best suited to your lifestyle, your work and your family obligations.
Disclaimers
6-month duration applies to students studying full-time.
$2,060 with a Commonwealth Supported Place (CSP). CSPs are limited, and available for eligible applicants only. Costs are based on 2022 – 2023 tuition fees. Fees are correct at the time of publishing and are subject to change. Speak with an enrolment adviser for more information.