Online Master of Health Administration
Prepare for a leadership role in healthcare
Lead the healthcare industry with the business knowledge you gain in the online Master of Health Administration. At La Trobe, you'll graduate from a highly ranked course1 qualified to manage health agencies, system improvements, staff, projects or research.
Learn more today
Complete the form to learn more about this program.
Duration
As few as 12 months*
Cost per subject**
$3,450
*12-month course duration applies to students who have completed a cognate Bachelor's degree and hold a current practising certificate with the Australian Health Practitioner Regulation Agency (AHPRA). Course completion ranges from 12 to 24 months with the average student completing in 18 months.
**Course and subject costs are based on 2021-2022 tuition fees. Fees are correct at the time of publishing and are subject to change. Speak with an enrolment adviser for more information.
Our health subjects are ranked in the world's top 2501
RACMA recognised
100% online
Learn how to lead healthcare in a highly ranked course
Ensure you have the real life skills and knowledge you need to pursue an advanced role in healthcare. Study the online Master of Health Administration at La Trobe.
You'll be ready to face complex industry issues as you learn how business topics such as ethics, finance, research and management apply specifically to the health sector.
Gain superior skills in project management, process development, strategic thinking and data interpretation. You'll graduate as a standout leader with superior soft skills valued in healthcare – skills like resiliency, ethical thinking, emotional intelligence and flexibility.
Consider expanding your skill set with a double degree in Master of Health Administration and Master of Public Health, where you'll layer public health and healthcare business knowledge.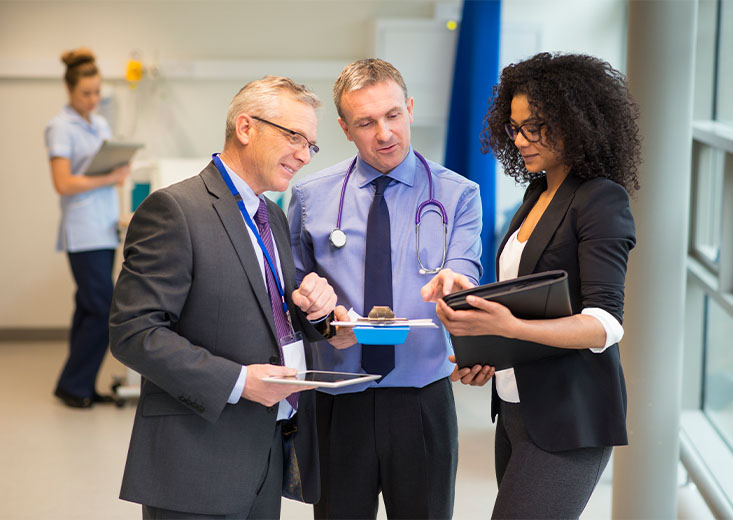 Health administration course structure: gain relevant career skills immediately
Subjects align with core competencies outlined by the Australasian College of Health Service Management (ACHSM), so you have the potential to become a skilled expert with interdisciplinary experience and knowledge.
Some subjects are also recognised by the Royal Australasian College of Medical Administrators (RACMA) for the Fellowship Training Program in medical administration.
With a degree in a related field, you can graduate in just one year.
Course structure
Career outlook: graduate as a master of health management
At graduation, you're well prepared to step into a health manager role – a position that's expected to grow 18.6% according to 2019 labour projections.2
Career outlook
Course outcomes: lead healthcare initiatives in an advanced role
Gain the knowledge, experience and blended skill set you need to succeed in this rapidly growing industry. As a graduate, you can:
Advance your career into leadership and management positions in the health sector, or specialist roles in areas such as project management, quality management and the management of particular health professions.
Improve healthcare outcomes using specialised skills in project management, process development and interpreting health data.
Use new skills in resilience; strategic, flexible and ethical thinking; emotional intelligence; and meeting goals to stand out as a leader.
Entry requirements
To apply to La Trobe's Master of Health Administration, you'll need a completed application and:
successful completion of an Australian bachelor degree (or equivalent)
transcripts from prior universities
resume or CV
personal statement.
Opportunities for alternate entry include special consideration and advanced standing.
Find out more
Fee details
Complete the Master of Health Administration at La Trobe with 8–16 subjects that are $3,450 each. The number of subjects you need to complete will depend on your education background.
Fees are correct at the time of publishing and are subject to change.
See tuition
Learn from teachers with clinical qualifications and experience in senior healthcare management roles, governance and research. They'll mentor you throughout the online health administration course so you can step into this demanding industry with confidence.
Associate Professor Hanan Khalil is a registered pharmacist who has worked in clinical practice for several years in both hospitals and community settings in Victoria and South Australia. She has held several senior management, research and education roles. Her research focus is on improving health services quality and performance. In addition to having her work published, Hanan has received numerous awards in recognition of her research.
She has published over 80 educational and research articles related to medication management and evidence-based healthcare in settings such as aged care, hospitals and community health services. She has also presented her work at both national and international conferences. She is an invited speaker both nationally and internationally on topics related to evidence-based healthcare and medication safety in health services.
Hanan has been an advisory member of the Therapeutic Goods Administration Labelling of Medicines Committee. She was involved in the development and the implementation of the new Therapeutic Goods Orders for medicine labels (TGO 91 & 92) to ensure the safe labelling of prescription and non-prescription medicines in Australia. She is also an honorary advisory member on the Monthly Index of Medical Specialties (MIMS). Associate Professor Hanan Khalil is the co-editor in chief of JBI Evidence Implementation and a member of the editorial board of BMC Health Services Research.
What's it like to learn online?
As an online student, you'll work with the same accomplished teachers who deliver our on-campus subjects. You'll receive one-on-one support and benefit from the same opportunities as our students on campus. However, you'll get to learn where and when it's most convenient for you.
Discover more
Study assist
La Trobe online courses are eligible for FEE-HELP for domestic students. Speak with an enrolment adviser. We can help you discover what's available to help you pay for your course.
Talk to us
Frequently asked questions
We're always happy to chat with you. If you'd rather talk one-on-one or have a question you don't see answered here, request more information or call (+61 3) 9917 3009.
Sources:
Times Higher Education (THE), 2020, World University Rankings 2021 by subject: clinical, pre-clinical and health
Occupation projections – five years to May 2024." 2019 Employment Projections – for the five years to May 2024, Australian Government Labour Market Portal, https://lmip.gov.au/default.aspx?LMIP%2FGainInsights%2FEmploymentProjections. Accessed 14 October 2020.