Online Master of Mental Health Nursing
Specialise as a mental health nurse with multiple perspectives in care
Soaring growth rates are expected for mental health nurse positions1 – earn your Master of Mental Health Nursing 100% online. Study therapeutic skills, pharmacology, mental health assessment and diagnosis, and considerations in treatment recovery. Understand how to apply your learning across rural, regional or metro settings.
Developed in collaboration with Allied Health Professions Australia (AHPA), you'll learn from experts how to create and carry out clinical plans.
Learn more today
Complete the form to learn more about this program.
*Course and subject costs are based on 2021-2022 tuition fees. Fees are correct at the time of publishing and are subject to change. Speak with an enrolment adviser for more information.
100% online3
7-week terms
Co-developed with AHPA
Registered nurses – address the critical mental health needs of the community
The Master of Mental Health Nursing is a specialist postgraduate qualification open to Division 1 registered nurses. Study 1.5 years full-time or 2–3 years part-time. You'll extend your skills across 12 units of study.
The course helps you develop a deeper understanding of mental health through systematic analysis and reflection on the relationships between theory and clinical practice. You'll have the opportunity to exit at a Diploma level with advanced specialist skills or complete the Master of Mental Health Nursing to attain a clinical consultancy level of practice.
Gain in-depth knowledge and lifelong learning skills you'll need for a career in contemporary mental health practice. The curriculum provides a strong evidence base and an advanced clinical-practice component. Specialty modules mean you'll undertake focused and advanced studies in your specific area of interest. You'll also undertake supervised and assessed clinical practice.
The qualification awarded on graduation is recognised in the Australian Qualifications Framework (AQF) as Level 9.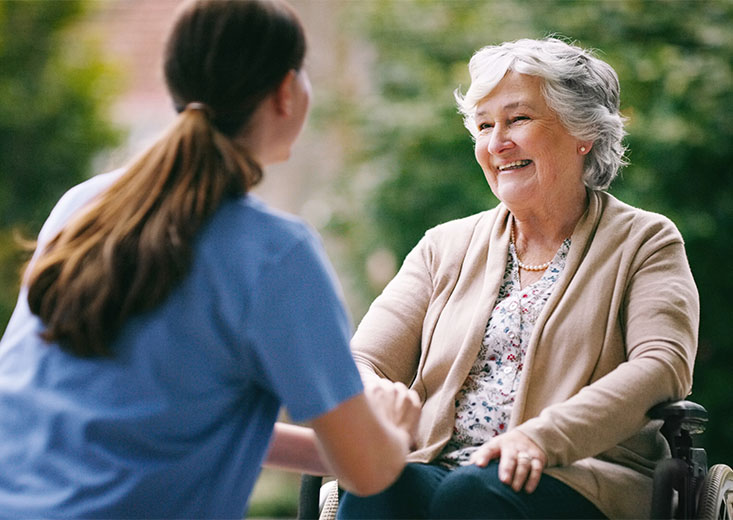 Course structure: fill a major gap with an ACMHN mental health nursing credential
La Trobe's online mental health nursing course provides a perspective in rural care that addresses a top area of concern in Australia's critical focus on mental healthcare.4 Developed in collaboration with Allied Health Professions Australia (AHPA), you'll build leadership skills such as resilience and flexibility as you learn to communicate effectively, sensitively and ethically with colleagues, the public and those who access mental health services.
Graduates qualify to apply for the prestigious mental health nursing credential from the Australian College of Mental Health Nurses (ACMHN).
Course structure
Career outlook: mental health nurses are in critical demand
Across Australia, mental health nurses provide much of the direct clinical mental healthcare offered, but qualified professionals are in short supply in comparison to the demand.5 In 2018, the Department of Health and Human survey reported 460 vacancies in the mental health nursing workforce, with some services having more than a 20% vacancy rate.6 By 2030, Health Workforce Australia predicts a shortfall of nearly 19,000 mental health nurses.5
Career outlook
Course outcomes: make an immediate impact in helping vulnerable populations
By graduation you'll be able to:
Make independent clinical judgements applying specialist skills
Assess clients and develop reasonable clinical plans
Use critical skills in problem-solving, planning and evaluation
Communicate effectively and sensitively with colleagues, people accessing mental health services and the public
Perform independently or as a team leader in mental health settings
Recognise ongoing learning needs and use effective learning strategies for professional practice
Undertake effective reflective practice, both independently and as a member or leader of teams in multidisciplinary work environments
Entry requirements
To apply for La Trobe's mental health nursing course, you'll need a completed application and the following:
successful completion of an Australian bachelor degree (or equivalent)
transcripts from prior universities
resume or CV
personal statement
be a Division 1 Registered Nurse
a current practising certificate with the Australian Health Practitioner Regulation Agency (AHPRA).
Opportunities for alternate entry include special consideration and advanced standing.
Find out more
Fee details
Complete the online mental health nursing course at La Trobe with 12 subjects that are $3,300 each.
See tuition
Learn from experienced clinicians, researchers, mental health managers and nurses. They'll provide expert guidance in our online mental health nursing course so you can step into this demanding profession with confidence.
Phil Maude is Professor Rural Health Nursing (Mental Health). He is also the Course Coordinator for the Master of Mental Health & Master of Mental Health Nursing. Phil has extensive experience as a senior psychiatric nurse at the Alfred Hospital, Community Mental Health and Neuro-Surgical and Addictions Services.
His research focus and areas of interest include;
Interventions for suicide and de-escalation of violence​
Addiction​
Service delivery and rural mental health​
Authentic assessment in learning​
What's it like to learn online?
As an online student, you'll work with the same accomplished teachers who deliver our on-campus subjects. You'll receive one-on-one support and benefit from the same opportunities as our students on campus. However, you'll get to learn where and when it's most convenient for you.
Discover more
Study assist
La Trobe online courses are eligible for FEE-HELP for domestic students. Speak with an enrolment adviser. We can help you discover what's available to help you pay for your course.
Talk to us
Frequently asked questions
We're always happy to chat with you. If you'd rather talk one-on-one or have a question you don't see answered here, request more information or call (+61 3) 9917 3009.
Sources:
"Occupation projections – five years to May 2024." 2019 Employment Projections – for the five years to May 2024, Australian Government Labour Market Portal, https://lmip.gov.au/default.aspx?LMIP/GainInsights/EmploymentProjections. Accessed 14 October 2020.
18-month course duration applies to students with a full-time course load. Part-time students may take 2-3 years.
Available to domestic students only
"Accessibility and Quality of Mental Health Services in Rural and Remote Australia, Report, Chapter 5." Parliament of Australia, https://www.aph.gov.au/Parliamentary_Business/Committees/Senate/Community_Affairs/MentalHealthServices/Report/c05. Accessed 14 October 2020.
"Productivity Commission Inquiry: The Social and Economic Benefits of Improving Mental Health. ACMHN Submission." The Australian College of Mental Health Nurses, Inc., 2019 April, https://www.pc.gov.au/__data/assets/pdf_file/0015/241521/sub501-mental-health.pdf. Accessed 14 October 2020.
Rees, Margaret. "Australian mental health report highlights a systemic crisis." International Committee of the Fourth International (ICFI), World Socialist Web Site, 2019 December 28, https://www.wsws.org/en/articles/2019/12/28/ment-d28.html. Accessed 14 October 2020.