Learn business in a top-ranked course
Study your MBA online at La Trobe University in a globally recognised business school. You'll discuss real-world case studies, dive into research and try your hand at consulting projects to graduate with experience creating value in business. Choose the data analytics specialisation to develop evidence-based solutions to business challenges. Taught within an AACSB accredited institution and aligned to PRME, the MBA prepares you to lead sustainable change in today's business world.
Learn more today
Complete the form to learn more about this program.
*Course and subject costs are based on 2021-2022 tuition fees. Fees are correct at the time of publishing and are subject to change. Speak with an enrolment adviser for more information.
AACSB accredited
EFMD accredited
PRME aligned
Thrive in a connected world with a global degree
La Trobe's Master of Business Administration (MBA) accelerates your career with a practical, industry-focused approach.
We've designed this degree to give students the skills needed for success in rapidly changing business environments:
Some subjects are co-delivered by leading corporations, including Mercer and the Victorian Equal Opportunity and Human Rights Commission.
La Trobe's MBA & Master of Management Course Advisory Committee, which comprises industry leaders, provides regular feedback and guidance to shape the program.
Through partnerships with the Melbourne Innovation Centre and Fishburners, students can access business incubation spaces and support their start-ups.
As part of La Trobe's MBA, we offer students the opportunity to develop their Career Development Portfolio (CDP), designed and delivered by Randstad RiseSmart.
La Trobe Business School was one of the first Australian business schools to sign up to the United Nations-backed Principles for Responsible Management Education (PRME). This affiliation ensures that La Trobe's students will gain the skills and knowledge to balance economic and sustainability outcomes in forward-thinking business contexts.
Our online MBA is ranked:
3rd in Australia and 18th in the world by CEO Magazine, 2022
1st in Victoria, 2nd in Australia and 14th globally by Corporate Knights Better World, 2021
4th in Australia and 41st globally in the 2022 QS World University Rankings – Online MBA
Get more information
Brochure download
Course outcomes
In our MBA, you cover the emerging issues shaping modern business, such as digitisation, globalisation and responsible leadership. You'll learn:
Business analysis
Understand the context and fundamentals of business so you can make informed choices.
Accounting and finance
Refine your skills in accounting to better analyse business practices.
Innovation
Learn how to think creatively and drive change across an organisation.
Responsible leadership
Gain an understanding of how best to manage people and projects towards ethical and sustainable outcomes.
Entrepreneurship
Be ready to take your business plans from conception to completion.
The qualification awarded on graduation is recognised in the Australian Qualifications Framework (AQF) as Level 9.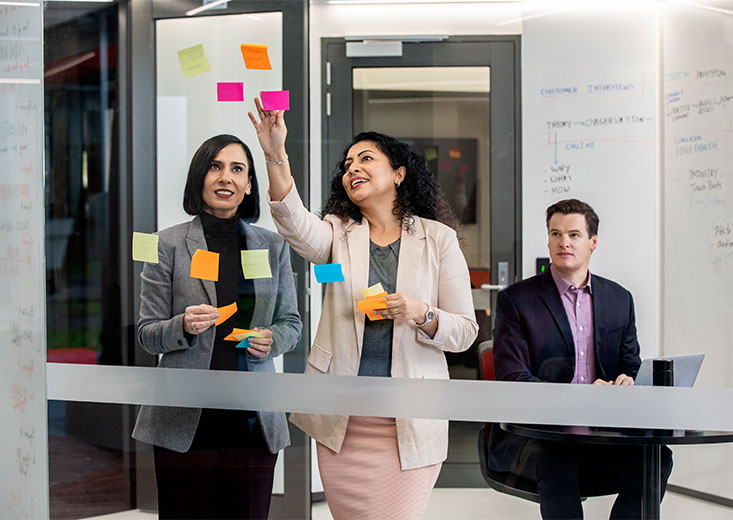 Course structure: innovation and sustainability at the forefront
La Trobe Business School is a champion of the UN's Principles for Responsible Management Education (PRME). The course holds two accreditations recognised worldwide:
Accredited by the European Foundation for Management Development (EFMD)
The La Trobe business school is accredited by the Association to Advance Collegiate Schools of Business (AACSB)
With prior experience, you can graduate in just one year.
Course structure
Customise your online MBA degree by choosing a specialisation
Career outlook: high-paying positions are waiting for your leadership
When you graduate, you'll have a career portfolio that proves you're ready to lead sustainable change and build value through business. Step into roles that have strong employment growth rates between 13% and 24%. As an alumnus, you have access to a global alumni network and outstanding industry contacts.
Career outlook
Entry requirements
To apply to La Trobe's Master of Business Administration, you'll need a completed application and the following:
successful completion of an Australian bachelor degree (or equivalent)
transcripts from all prior universities
letter of recommendation
a personal statement
resume or CV with three years of relevant management experience
WAM of 60% or above at third-year university level
Additional entry opportunities include alternate entry with more than eight years of relevant management experience, as well as advanced standing.
Find out more
Fee details
The online Master of Business Administration (MBA) at La Trobe consists of 12 subjects that are $4,875 each. Fees are correct at the time of publishing and are subject to change.
See fees
Teachers have extensive academic, industry and research experience. They bring a deep understanding of how your subjects apply to real-life situations, which means you'll get valuable insights and graduate ready to put it into practice in your career.
As director of the MBA at La Trobe University, Geraldine is responsible for the Master of Business Administration strategy and operations, curriculum and learning quality and industry engagement initiatives. Her area of research interest is in the role of human and social capital in sustainable economic development.
Currently, Geraldine is exploring how learning practices in business incubators influence the success of incubatees in Chongqing, Chengdu and Melbourne. Previously, she has studied the impact of training and development practices on labour turnover as well as the dependence of student experience and engagement on employability outcomes.
What's it like to learn online?
As an online student, you'll work with the same accomplished teachers who deliver our on-campus subjects. You'll receive one-on-one support and benefit from the same opportunities as our students on campus. However, you'll get to learn where and when it's most convenient for you.
Discover more
Study assist
La Trobe online courses are eligible for FEE-HELP for domestic students. Speak with an enrolment adviser. We can help you discover what's available to help you pay for your course.
Talk to us
Frequently asked questions
We're always happy to chat with you. If you'd rather talk one-on-one or have a question you don't see answered here, request more information or call (+61 3) 9917 3009.
Sources:
18-month duration applies to students studying full-time.